About our Air Duct Cleaning, HVAC Cleaning, Dust Removal, Commercial Air Duct Cleaning, and Commercial Coil Cleaning in Mobile, AL, Hattiesburg, New Orleans, Slidell, Biloxi, Gulfport, Jackson, MS, and Surrounding Areas
We get the unseen enemy out of your ducts
With more than two decades of experience in the HVAC/ Air Duct Cleaning and Mold Remediation Industry, Clean Air Services has earned a reputation throughout Mobile, New Orleans, Slidell, Biloxi, Hattiesburg, and many surrounding areas. Our crew of highly trained and certified technicians has years of hands-on experience providing the very best in services for commercial and industrial projects throughout the nation. Our residential services extend throughout Mississippi, Alabama, and Louisiana.
Certified Indoor Environmentalists (CIE), Certified Mold Remediators (CMR), NADCA Air Systems Cleaning Specialists (ASCS), and Qualified Cleaning Technicians: these are the professionals that comprise the staff of Clean Air Services. These skilled individuals are trained to perform HVAC/duct system decontamination and mold remediation that meets the most stringent standards, including NADCA ARC 2005, IICRC S520, and EPA Guidelines.
HVAC Decontamination Experts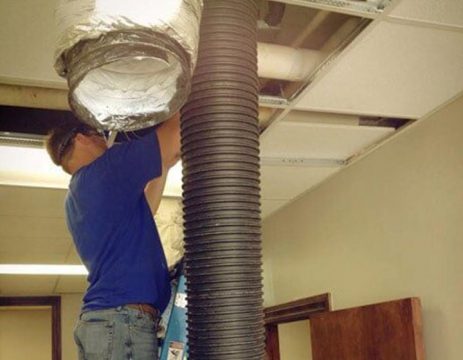 Far too many duct cleaning services are provided as an 'additional service' by companies that specialize in HVAC repair, service, and installation. Unfortunately, the investment in duct cleaning training and equipment made by these companies is minimal…and so are the results.
Clean Air Services uses advanced HVAC system cleaning techniques and the most advanced equipment available to deliver a higher standard of clean.
Dust Removal, Smoke Removal, and Nicotine Removal
We use the most effective removal source method available.
Vacuuming alone isn't enough. Brushes alone won't get the job done. A combination of both is close. Clean Air Services employs a process that incorporates both vacuuming and brush cleaning PLUS powerful sanitation and more. It's our entire process that has made us leaders in the industry, recognized for delivering unparalleled quality.
NOT your average cleaning system
Our powerful hi-range vacuum system offers far more suction power than typical portable units used by other companies. This unit is designed specifically for heavy-duty cleaning, from small residential jobs to large commercial systems. But that's not all. You can review our entire process and procedures.
Residential and Commercial Air Duct Cleaning Services
Professional Approach in Every Way
From our cleaning process to the extensive training and personal dedication of our staff, Clean Air Services goes further to deliver one of the industry's most comprehensive cleaning solutions.
Our staff members have received the professional training necessary to provide an incredibly clean air environment. Extensive experience has made Clean Air Services extremely effective in working together to provide superior service to our clients.
Our professional preparation, investment in equipment and dedication to customer services is evident in our service offerings and professional qualifications and associations:
Professional Services
HVAC/Duct System Inspection, Cleaning & Sanitation
Fire & Water Damage Restoration
Allergy, Odor & Dust Control
Mold Remediation
Indoor Air Quality Inspection & Remediation
Insulation Removal
Certifications
Certified Indoor Environmentalists (CIE)
Certified Mold Remediators (CMR)
MS Dept. of Environmental Quality Contractor/Supervisor
NADCA Air System Cleaning Specialist (ASCS)
IICRC Fire & Smoke Restoration Technician (FSRT)
Staff Education & Training
S. Biology/Chemistry
Mold Boot Camp (Video-Aire Enviro-Mold IAQ Services, Inc. – Houston, TX)
Certified Indoor Environmentalist Course (Enviroteam, Inc. – Orlando, FL)
A Common Sense Approach to Mold (Envirocare, Inc. – Hattiesburg, MS)
Mold Remediation Workshop (Mycotech Biological, Inc. – Houston, TX)
Fire & Smoke Restoration (IICRC – Pensacola, FL)
Fundamentals of HVAC & Indoor Air Quality (IAQA, Inc. – New Orleans, LA)
Professional Mold Seminar (EMSL Analytical, Inc. – New Orleans, LA)
Professional Associations
Indoor Air Quality Association, Inc. (IAQA)
Institute of Inspection, Cleaning & Restoration Certification (IICRC)
The Institute of Real Estate Management of the National Association of Realtors (IREM)
National Air Duct Cleaners Association (NADCA)