Duct Cleaning, Residential and Commercial Air Duct Cleaning in Spanish Fort, Alabama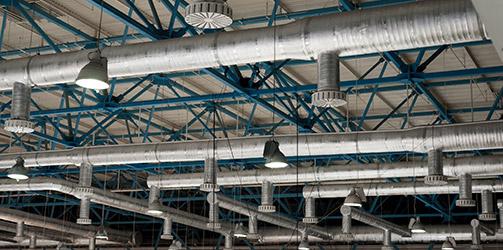 No matter what business you have, you want it to be a clean environment. To help make that possible you need to have your commercial air duct cleaning scheduled to reduce allergens, irritants, and other possible contaminants. All of these get recirculated many times as your Spanish Fort ductwork is used to heat and cool your building, so removing these will result in a better environment for you, your employees, and your customers. Contact Clean Air Services today and schedule your commercial air duct cleaning so that you can keep your business running efficiently and have your equipment last longer and work hard for you, year after year.
Air Duct Cleaning in Spanish Fort
We do a complete cleaning to all surfaces so nothing is missed. Our air duct cleaning process can reduce moisture, dirt, pollen, fungus, bacteria, and other debris common to your HVAC system. The push/pull concept uses compressed air and physical agitation to break debris-free and push it through the ductwork while a powerful vacuum downstream pulls loosened material through and out of the HVAC system. Not only do we clean the ducts with our air duct cleaning, but we also make sure to clean the fan, coils, and registers. Having a clean system also means that it will operate more efficiently, giving you a reduction in your Spanish Fort home heating and cooling costs, and even prolonging the life of your system as well.
Duct Cleaning in Spanish Fort, AL
Have you ever considered what might be in your Spanish Fort ductwork? Pollen, hair, dirt, pet dander, or even worse. And that gets blown all over your house every time your heating or cooling system turns on. Having a duct cleaning performed on your home or business gets rid of these air quality irritants and improves your quality of life. Once we have cleaned your vent ducts, we apply a sanitizer treatment to help ensure that there is no mold or mildew that could cause issues. That's a full duct cleaning you can count on.
Spanish Fort was originally the site of a trading post established by French-occupied Mobile. During the American Civil War, Spanish Fort was heavily fortified as an eastern defense to the city of Mobile. Fort Huger, Fort (Battery) Tracey, Fort (Battery) McDermott, Fort Alexis, Red Fort, and Old Spanish Fort were all part of the Mobile defenses in what is now Spanish Fort. The falls of Spanish Fort and Fort Blakeley permitted Union troops to subsequently enter Mobile unopposed after the conclusion of the Civil War.