Commercial Air Duct Cleaning, and AC Vent Duct Cleaning in New Orleans, Slidell, LA, Hattiesburg, Jackson, Biloxi, Gulfport, MS, Mobile, AL, and Surrounding Areas
The Cost of Poor Air Quality
Your HVAC system is ultimately responsible for circulating infiltrating all the air in your indoor commercial space. This means that every dirt and dust particle, airborne mold spore, allergen, contaminant, and other pollutants pass through your ductwork. overtime, this creates a buildup of unwanted material that threatens the health of your HVAC system as well as the health of your employees and/or customers.
This is bad news for your bottom line. The health of employees who are subject to allergies, asthma or other conditional respiratory issues can be adversely affected when air quality is low.
Statistics show that Americans spend nearly 90% of their time indoors, and a majority of that time is spent at work. When allergens and other contaminants are left unchecked, employees suffer, and so does your business through lost productivity and increased medical costs. In serious cases, a company can be found liable for neglecting to provide a healthy workplace environment, resulting in costly legal expenses and hefty settlements. Here's the good news.
Clean Air Services specializes in providing the solutions your company needs to maintain clean air in your commercial indoor environment.
AC Vent Duct Cleaning
Keeping Costs Low
In addition to the serious health concerns resulting from poor indoor air quality are the additional costs associated with poor HVAC maintenance. It's been proven that less than half an inch of dirt on a heating or cooling coil can decrease system efficiency by over 20%. For your system to perform optimally, there must be unrestricted airflow.
When ductwork is not regularly cleaned, the build-up can create a strain on airflow, making your system work harder. Filters become clogged sooner. These factors contribute to more significant wear and tear and threaten the overall durability of your system.
The harder your system has to work, the more energy it consumes. Managing energy costs is one of the foundational ways businesses increase their profitability. Clean Air Services delivers professional commercial ductwork cleaning that keeps your system running efficiently.
Air Duct Cleaning Services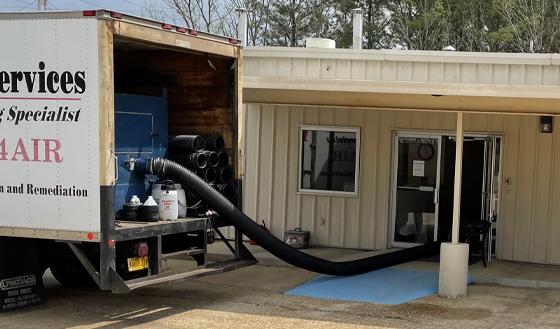 Clean Air Services has years of experience in helping businesses throughout a host of different Industries maintain a clean and healthy indoor air environment. Our proprietary ductwork cleaning process is far more comprehensive than the services typically provided by ductwork cleaning companies. Also, we employ state-of-the-art video inspection as part of our commercial ductwork cleaning process. This enables us to locate problem areas, verify satisfactory process completion, and identify any issues that affect the performance of your ductwork, such as leaks, moisture damage, and other concerns.
Clean Air Services does not repair commercial HVAC systems, nor do we sell and install commercial HVAC systems. Our only focus is on cleaning HVAC systems. While many HVAC sales and repair companies offer ductwork cleaning as an additional service, Clean Air Services Specializes in commercial ductwork cleaning. We are specifically certified, licensed and insured to administer the services we offer. At Clean Air Services, HVAC cleaning is not an additional service. It's our only service.
Clean Air Services maintains the industry's highest standards. Our services are administered by highly trained and certified professionals that include a certified NADCA Air System Cleaning Specialist, a Certified Indoor Environmentalist, a Certified Mold Remediator, an MS Department Of Environmental Quality Contractor/ Supervisor and an IICRC Fire and Smoke Restoration Technician.