AC Vent Duct Cleaning, Vent Cleaning in Hattiesburg, Gulfport, Biloxi, Jackson, MS, Mobile, AL, New Orleans, Slidell, LA, & Surrounding Areas
Clean Air At Work
From office buildings to multi-unit apartment complexes, manufacturing plants to refineries and auto plants, the indoor air quality of commercial facilities plays a significant role in the health, satisfaction, and productivity of employees, residents, occupants, and customers.
AC Vent Duct Cleaning Is a Necessity
A variety of studies have shown that building managers, commercial property owners, property management companies, landlords, and many other parties involved with commercial real estate have come to understand that indoor air quality is a serious concern. The typical occupation of a building generates many contaminants and air pollutants. These can include dander, dust, allergens, and chemicals, to name a few. These contaminants are pulled into the HVAC system and recirculated on average from five to seven times per day. This recirculation eventually causes a buildup of contaminants within the vents of the HVAC system. Studies have shown that a contaminated HVAC system can aggravate existing respiratory health conditions and pose a serious risk to those with autoimmune disorders. When allergens are recirculated throughout the facility through the HVAC vents, those who suffer from allergies are consistently struggling to keep symptoms in check.
When poor indoor air quality affects the health and well-being of your employees, the consequences to your company's reputation can be catastrophic. There are financial repercussions as well. The health results of poor air quality cost American businesses millions of dollars every year due to lost production as a result of increased employee sick time.
When an apartment complex, office building or retail establishment fails to maintain indoor air quality, the risks they face range from lawsuits to lost business.
Experts in Commercial Vent Cleaning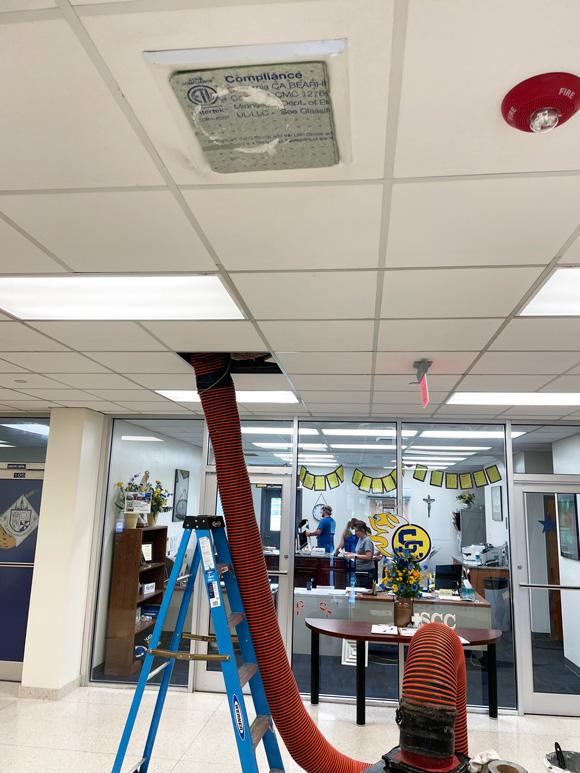 Throughout Mississippi, Alabama, and Louisiana, property managers, mechanical contractors, and commercial property owners turn to the professionals at Clean Air Services for Commercial HVAC Vent cleaning. Our customers include the Nissan Plan and the Mississippi Department of Transportation, as well as numerous large companies and refineries. Our process meets and exceeds all NADCA guidelines and industry standards. We strictly follow their stringent protocols. In fact, Clean Air Services wrote those protocols that are still being used throughout our industry today.
Why Choose Clean Air Services?
Clean Air Services goes above and beyond when it comes to delivering unparalleled results in commercial vent cleaning. The steps we take to ensure your satisfaction include:
Adherence to NADCA general specifications for cleaning of commercial HVAC systems
Meeting or exceeding ACR, the NADCA standard for assessment, Cleaning and Restoration of HVAC systems
Reviewing project drawings and project specifications to ensure we get the job done right the first time, every time
Conducting an assessment before performing the work
Providing a written work plan as well as outlining the scope of work within the work plan to identify what components will be cleaned and we will outline any special requirements needed for the cleaning
Cleaning specified components per the NADCA General Specifications
Reporting pre-existing damage to HVAC components discovered during the cleaning
Performing cleanliness verification as outlined in the scope of the work and identify post-project documentation