Air Duct Cleaning in Slidell, New Orleans, LA, Mobile, AL, Hattiesburg, Gulfport, Biloxi, Jackson, MS, and Surrounding Areas
Better For You, Better For Your Home
It's amazing how much dust, dirt, mold, mildew, and other contaminants collect in an HVAC systems' vents. When these ducts become polluted, it can harm your family's health as well as the performance of your HVAC system. Recirculating dirty air exacerbates existing respiratory conditions in family members who currently suffer from conditions such as COPD, allergies, asthma, and other breathing issues. Other contaminants can actually cause respiratory problems.
Anything that reduces airflow also reduces the performance and efficiency of your heating and cooling system. Imagine how difficult it would be to breathe through a dirty face mask. In essence, trying to feed air to your HVAC system through dirty, contaminated vents makes it hard for your system to receive the air it needs to perform properly and efficiently.
Breathe Easier & Improve Energy Efficiency
It all starts with one little form…
Step 1: Request an estimate using this contact form
Step 2: Clean Air Services will call you and schedule your air duct cleaning appointment with a certified professional (CIE, CMR, ASCS)
Step 3: Get the air duct cleaning and HVAC mold decontamination you need and start enjoying the benefits of a more efficient HVAC system and cleaner air!
AC Vent Duct Cleaning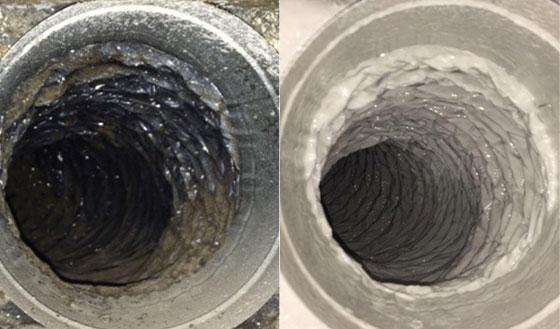 Clean Air Services offers comprehensive residential duct cleaning that goes far beyond traditional providers. Our multi-step process addresses the most common problems with standard vent cleaning. We avoid recontamination by sealing your system once the cleaning process is completed. This ensures that no air is drawn from inner walls or attics so that only clean air is pulled through your freshly cleaned system. We utilize a push/pull cleaning technique, considered the industry's most effective source removal method available. This technique uses compressed air and physical agitation to break debris-free and push it through the ductwork while a powerful vacuum downstream loosened material through and out of the HVAC system.
Review our proprietary Air Duct and Vent Cleaning Process and see why homeowners in communities throughout Mississippi, Louisiana, and Alabama insist on Clean Air Services:
Our technicians "zone" the supply and return sides of the HVAC system so they may be cleaned separately. This step is accomplished by using zone bags, foam blocks, or by removing the filter from the HVAC system and placing it in a plastic bag and reinstalling it.
Once an access hole is cut into the supply side of the HVAC system and the vacuum is connected using a connection collar, it is then engaged.
Starting with the farthest branch from the vacuum and working toward the closest, each branch is individually cleaned back to the main trunk. After each register is removed and contact cleaned, we begin our effective push/pull method which combines compressed air and physical agitation.
Once every Branch rung has been cleaned, the main trunk is cleaned back to the vacuum.
When the cleaning of the supply side has been completed, an access hole is then cut into the return side. The vacuum is attached and the cleaning process is repeated. In addition to cleaning the interior of the ductwork, a complete cleaning would include cleaning the fan, coil, and registers, as well as an inspection and/or replacement of the systems air filter as required.
Upon completion of the cleaning process, we then apply an EPA approved sanitizer treatment overall interior surfaces of the HVAC system. This includes air handlers, supply, return, exhaust, and intake ducts, as well as mixing boxes. As the vacuum unit is running, the negative pressure "pulls" the sanitizer throughout the ductwork, ensuring complete sanitizer coverage.
Once all cleaning and sanitizing operations are completed, an EPA-registered antimicrobial encapsulate is applied at each supply duct and to help prevent contamination caused by excess moisture and condensation due to the varying temperature differences at these areas. The encapsulate is also applied to the fibrous material (ex. insulation) of the return and unit.
All services are performed by our experienced and certified professionals, which include a Certified Indoor Environmentalist, certified NADCA Air System Cleaning Specialist, Certified Mold Remediator, MS Department of Environmental Quality Contractor/Supervisor and IICRC Fire and Smoke Restoration Technician.
c
Before & After Air Duct Cleaning Service