Multi-Unit Dryer Vent Cleaning in Slidell, New Orleans, LA, Mobile, AL, Hattiesburg, Jackson, Biloxi, Gulfport MS, & Surrounding Areas
Avoid Dryer Fires
The National Fire Protection Association estimates that more than 15,000 fires are caused by clothes dryers each year, resulting in over 80 million dollars in damages and, more tragically, loss of life.
The greater the usage, the greater the risk
Hotels, apartment complexes, dormitories, health clubs, long-term Senior Care Facilities, and laundromats, are especially susceptible to dryer fires. The prolonged and continued use of these dryers results in a greater-than-normal buildup of lint, which is flammable, creating an ideal environment for fire.
Multi-Unit Dryer Vent Cleaning to Avoid Problems Inside the Dryer
Lint can build up on the heating element of a dryer, as well as other places within the dryer container, acting as an insulator that causes the unit to overheat and catch fire. Generally speaking, dryer fires start as a result of a spark that occurs within the machine.
Multi-Unit Dryer Vent Cleaning for Businesses
Avoid Problems Outside the Dryer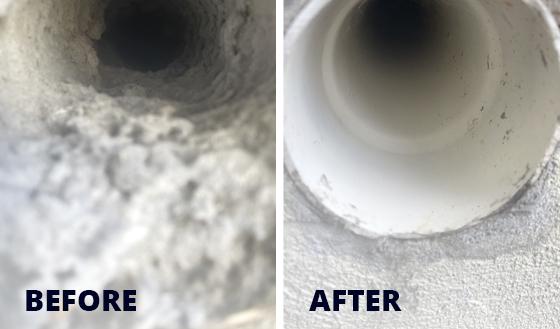 Today's dryers are often located away from outside walls. This requires dryers to be vented longer distances and include sharp turns and bends to accommodate various structures. This creates additional places for lint to gather, and these places are often hard to reach.
Improper dryer vent applications often restrict airflow and increase lint buildup. Often, due to limited space, there isn't enough clearance between the dryers and walls. This can often reduce airflow. Coupled with lint build-up, this causes the high-temperature limit safety switch to cycle on and off, which leads to mechanical failure of the switch.
Multi-Unit Dryer Vent Cleaning Keeps Your Dryers Safe
Clean Air Services has the experience, training, and equipment necessary to professionally clean your dryer vents. Argental brushes get to the hard-to-reach places, breaking up and loosening dryer lint throughout the dryer ductwork. Then, our commercial-grade vacuum extracts the lint, dust, and other debris. When the lint is gone, the risk of fire is greatly diminished.
Another benefit of regularly scheduled dryer lint cleaning is the increased efficiency you'll notice in your dryers. When a dryer cannot vent properly, there is tremendous heat build-up, and heat is the enemy of everything mechanical. Increase the lifespan of your dryers and reduce your energy cost with regularly scheduled dryer vent cleaning by the professionals at Clean Air Services.
IMPORTANT NOTE:
An easy way to remember to schedule dryer vent cleaning is to have Clean Air Services perform this important maintenance service when they are handling your HVAC cleaning. Contact your Clean Air Services representative today to include this important maintenance item with your next service order.