Commercial Air Duct Cleaning, HVAC Cleaning, and HVAC Decontamination in Metairie, LA
Your One-Stop-Shop for all your Air Quality Needs!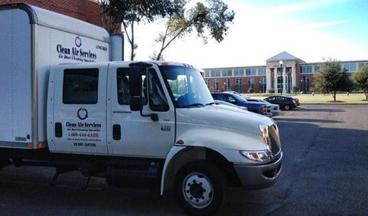 If you're a business owner that owns or operates a commercial property, you know that routine maintenance is essential to avoid future issues. Commercial air duct cleaning is one of Metairie, LA's most overlooked maintenance services. If you don't routinely clean your air ducts, mold, dirt, grime, and more can accumulate.
At Clean Air Services, Inc., we understand the importance of clean air ducts better than anyone. Clean air ducts are crucial, keeping your staff productive and your customers happy. Neglecting them can result in respiratory issues, foul odors, dust, and other harmful effects.
Also, cleaner air ducts can help your HVAC system run more efficiently, which can save you money on your energy bills.
If you're ready to speak to our team at Clean Air Services, Inc., we're just a quick phone call away. Contact us today to discuss our air duct cleaning options.
Commercial Air Duct Cleaning in Metairie
At Clean Air Services, Inc., we use a comprehensive commercial air duct cleaning process to ensure that your system is entirely spotless. All our commercial services begin with a full inspection of your duct system. First, we'll explore your ducts with a camera to identify mold, grime, dirt, and other problems.
Next, we'll use a process called negative pressure air duct cleaning, which combines vacuum power and brushing to rid your duct system of its contaminants.
Whether your HVAC system harbors smoke, dirt, nicotine, grime, mold, or any other issue, our two-step cleaning process will ensure that all toxins are eliminated. With us, it's easier than ever to improve your air quality in Metairie.
HVAC Decontamination and Cleaning for Metairie, LA Businesses

If you're searching for a commercial HVAC decontamination and cleaning business that can work efficiently and save you money, call us. Unlike national air duct cleaners, we're highly committed to customer service. That's because we're a local business; therefore, we know common air duct issues impacting the area, and we are dedicated to improving fellow Metairie businesses.
We provide cost-effective solutions for improving indoor air quality. Our transparent and affordable pricing structure ensures that your business won't spend outside its HVAC budget. We readily offer quotes to Metairie clients.
Contact us today if you're ready to inquire about our Metairie commercial air duct cleaning services in Metairie. We're here to help you with HVAC cleaning services!