Commercial Air Duct Cleaning, HVAC Cleaning, and HVAC Decontamination in Ocean Springs, MS
Your One-Stop-Shop for all your Air Quality Needs!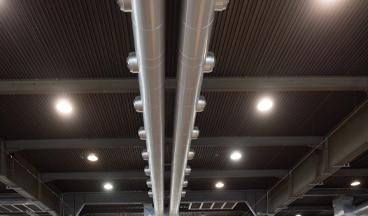 Clean Air Services offers top-notch commercial air duct cleaning in Ocean Springs, MS, and the surrounding areas. Commercial air duct cleaning is a sure way to improve a business' indoor air quality, which benefits everyone using the premises. For example, maintaining clean air ensures that employees and customers avoid respiratory illnesses and other unwanted health conditions.
At Clean Air Services, we offer a wide variety of services to keep every business in town clean and sanitary, including:
Indoor air quality
Vent cleaning
Duct encapsulation
Multi-Unit dryer vent cleaning
Commercial Air Duct Cleaning in Ocean Springs
The cleaning professionals at Clean Air Services know every detail about how to keep commercial air ducts clean and functional. According to the Occupational Safety and Health Administration, poor air quality has a significant impact on employees' health and their ability to work efficiently.
Poor air quality is easy to remedy, as it is commonly caused by:
Poor ventilation upkeep
Inefficient heating and air conditioning systems
Contaminants from indoors or from outdoor air inlets
Clean Air Services knows how to keep commercial building systems clean and sanitary, using the latest technology to ensure healthy ventilation channels and complete customer satisfaction.
HVAC Decontamination and Cleaning for Ocean Springs, MS, Businesses

Clean Air Services is here for your Ocean Springs business with every HVAC decontamination procedure available. We clean the duct system, diffusers, and air handling units to ensure the best air quality possible across the building.
Our team of professionals uses one of the most effective processes to ensure the best results, a vigorous cleaning method that involves:
brushing the interior of the ductwork,
rinsing air, and then
vacuuming and sanitizing the entire area.
Clean Air Services uses quality equipment that removes airborne allergens and contaminants effectively. Twenty years of experience means that our work is always of the highest standards. Breathe a little easier, and take advantage of our commercial air duct cleaning services and residential services in Theodore, AL, Hattiesburg, MS, Slidell, LA, and the surrounding communities.
Contact Clean Air Services today for top-notch service from an independently owned and operated air duct cleaning and HVAC cleaning service in Ocean Springs, MS.